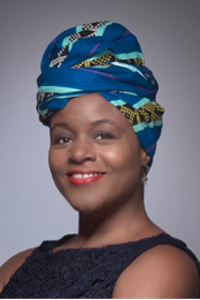 Book this Speaker
To learn more about Viola Llewellyn or book them as a speaker, please contact us.
Bio
Viola Llewellyn is the co-founder and President of Ovamba Solutions, Inc. Ovamba is an award-winning African "TradeTech" company that creates culturally attuned technologies for Financial Institutions so that they can serve formal and informal African SMEs in the trade & commodities sectors with short term capital and financial inclusion. Ovamba's solutions combine innovative Sharia-compliant structures with eCommerce, logistics services, and technology to drive financial inclusion and promote growth. Ms. Llewellyn oversees technology development, strategic implementation, investor communications, and global business development for Ovamba.
As a founding team member of a life insurance investment fund ($500M AUM) in Washington, DC, she led investor communications, and asset management divisions. In her past career, she has held positions with Unisys Corporation, IBM, Digital Equipment Corp., KPMG Consulting, BearingPoint, and Rothschild's.
Ms. Llewellyn was listed in the "Digital Undivided Report" as one of only 34* Black women in the USA to have raised more than $1 million for a technology company as featured in the April issue of Vanity Fair Magazine. She is listed on Innovate Finance's 2016, 2017, and 2018's Women in FinTech Power List and on Latice80's Top 100 Women in Fintech 2019 list. Ms. Llewellyn is further distinguished by being the first Female African Tech Founder to speak at both "Slush, Helsinki" and "Slush, Tokyo" – yearly events that are billed as the biggest gathering of innovators, funders, startups, and entrepreneurs in Europe and Asia respectively. In late 2018, her TED Talk was included as part of the "Reboot" Series with Boston Consulting Group. Ms. Llewellyn is a published author of The Brooking's Institute's "Foresight Africa 2019" article, "Winning in Africa's FinTech: The Ovamba Way," and the Wilson Centers' "Africa: Year In Review 2019."
She is on a number of advisory boards, including the Africa Fintech Summit, the Africa Professional Services Group, the European Women's Payment Network, as well as the African Women in Fintech & Payments Network. In June of 2018, Ovamba was selected by the World Economic Forum as a Global Technology Pioneer, securing a 2-year Ambassadorship and a place at the prestigious "Davos Summit" conference. Ms. Llewellyn previously served on the board of Africa's leading tech hub and incubator ActivSpaces.
Viola Llewellyn's family is originally from Cameroon. She was born, raised, and educated in the U.K. and lives between the African Continent and the USA.
Speaking Topics
How to Effectively Engage Communities and Foster Inclusion
Your communities are made up of a myriad of potential customers from an unimaginable range of cultures and countries-of-origin. Is your financial institution doing all that it can to serve the populations of people who may not be readily visible to you?
Viola will offer fascinating insight on how some cultures view finances, including non-traditional borrowing and saving habits. She will also cover ways to evaluate creditworthiness of members of your community who may not have a standard credit history.
Viola's background in African business financing and her knowledge of Sharia-compliant banking make her a wealth of knowledge on serving your community in a culturally inclusive way.
AI Lessons Learned from Emerging Markets
Africa represents a data analyst's dream!  From medical, to genetics, to small business and culture, the exponential use of technology to solve local and global problems is creating new opportunities in data and innovation.  AI application in the sectors of trade, business, banking, and small business finance is creating an explosion in data analytics.  Innovating around these fast growing sectors has AI permanently switched  to the 'ON' position.
Credit unions can learn a great deal by observing what is going on in places like Africa, where AI and machine learning are growing by leaps and bounds. What steps can your credit union take to ensure you are setting your shop up for success?
Viola's content includes:
The importance of interpretability and how to move closer to understanding customer self-curation
How to evolve into micro segmentation
How AI can be used to level-set the playing field when data is coming from disparate – and often messy – places
Risk, Wealth & Customer Growth – What Bank & Insurance Companies can learn from Emerging Markets
Women, Leadership & Digital Transformation
Wealth and the New Africa
Designing Banking Services to Promote Inclusivity and Growth
AI Lessons Learned from Emerging Markets
How to Effectively Engage Communities and Foster Inclusion