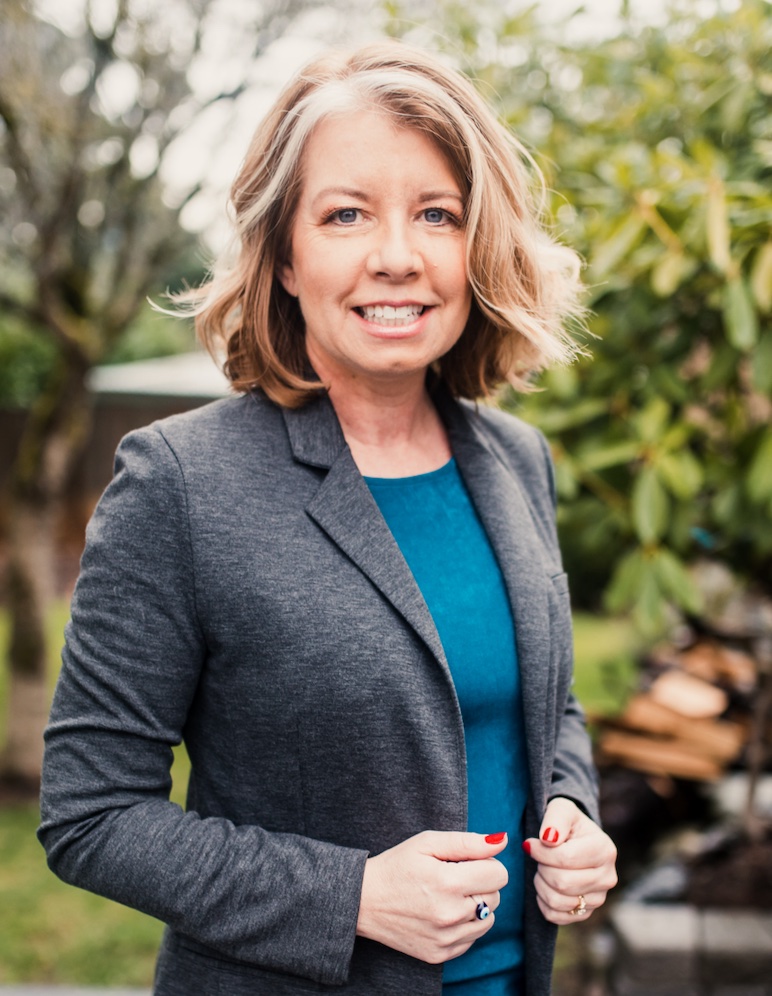 Book this Speaker
To learn more about Shari Storm or book them as a speaker, please contact us.
Shari spent 16 years as an executive at a Seattle credit union, where she oversaw marketing and IT. 
Her proudest accomplishments at Verity Credit Union included being named an Innovator of the Decade by Net.Banker, heading up the successful Verity Mom campaign, and participating in Filene's prestigious i3 program. 
Her first book, Motherhood is the New MBA: Using Your Parenting Skills to be a Better Boss was published by St. Martin's Press. With almost 20,000 copies sold, it has been translated into Mandarin and purchased for publications in four countries. The book has received tremendous press, including Time and Redbook magazines, Martha Stewart's radio, BusinessWeek online, the Costco Connection and the cover of the Metro News New York, to name a few. 
Shari has been named a Woman of Influence by CU Times. She has been featured in American Banker, Credit Union Management, and The CEO Report. 
She is now the CEO of Category 6 Consulting, which specializes in developing strategy with a strong focus on culture, marketing, and fintech. 
Shari received her undergraduate degree from University of Washington and her MBA from Seattle University. 
Shari lives in Edmonds, WA with her three teen daughters, her movie-making husband and a dog named Cedar. 
Running a Good Meeting & Writing a Useful Review
Maintaining Momentum / How to Work Together When We Can't Be Together
Recruit, Retain, Mentor, Motivate
Building a More Positive and Productive Work Environment
Kids These Days: Capturing the Hearts, Minds, and Wallets of Young Members
Capturing the Most Powerful Market: Post Covid
Sparking Innovation at Your Credit Union
Building Confidence in Your Communication Skills
Recruit, Retain, Mentor, Motivate

The labor shortage - especially with young people - does not appear to be getting better any time soon. How can you recruit and retain talent when you don't have the budget to pay what your competitors can? How can you make your organization more attractive to great employees within your current limitations? This lively, funny, interactive presentation gives straight-forward, applicable advice on how to build a reputation of being a place people want to work. This stand-out session shares strategies on building morale, mentoring rising stars, and keeping teams motivated over the long marathon that our jobs often are. And best of all, the advice is immediately actionable.

Building a More Positive and Productive Work Environment

Learn techniques for building an environment that is drama free, where employees feel valued and empowered. Often small changes in the way we interact with our teams can have a long and lasting impact on their job satisfaction. We will discuss ways of handling staff during difficult times – especially during times of change.

Learn the art of motivating others - and yourself - to be more productive, more effective and to enjoy your job more.

Efficient, Effective Review Writing

Writing the CEO's review is often a time-consuming, cumbersome task, yet it is arguably the most important function of the board of directors.

Learn six things your board can do to ensure that your reviews:

get done quicker and more easily – and on time
give your CEO actionable feedback,
minimize recency bias, scoring bias, and halo bias
ensure the board 'speaks with one voice'

Running a Good Meeting & Writing a Useful Review

Two of the most overlooked talents for any professional are how to run a good meeting and how to deliver a useful employee review on time. Unfortunately, these are skills that are rarely taught.

When someone is adept at running a meeting, they are viewed as more competent, more capable, and a better candidate for promotion.

Bosses who don't deliver reviews on time and bosses who give reviews that do not move the employee or the company forward are often considered weak managers, by both their direct reports and their superiors.

The good news is, there are a few simple steps you can take to make running a good meeting easy and writing a useful review painless.

In this presentation, learn the 6 steps for running an effective, efficient, and even enjoyable meeting and learn the 6 steps to writing and delivering thorough reviews that will motivate your employees to rise to the challenge of today's workplace.

Kids These Days: Capturing the Hearts, Minds, and Wallets of Young Members

Every financial institution wants to be there when a young person is ready to open their first credit card or get their first car loan. Consumers in the early stages of adulthood can be extremely profitable and presumably result in many more years of relational banking. Early affinity to a brand can lead to a lifelong relationship. "There's lots of evidence that the brands you are emotionally connected to as a child you remain connected to as an adult," says Rachel Geller, a partner and chief strategic officer at youth-oriented agency The Geppetto Group in New York.

Consumers under the age of 25 present a host of opportunities for banks and credit unions, both now and well into the future. Is your financial institution doing enough to capture this critical market segment? Learn 10 things you can start doing tomorrow to ensure you don't miss out on a vital strategic initiative.

Capturing the Most Powerful Market: Moms

If your board has ever asked, "who do we serve?" you know that is a difficult question to answer. We tend to want to be all things to all people. As a marketer, you know that is virtually impossible.

What makes a good target market? First, we will discuss the necessary attributes that ensure a viable target market. Then we will talk about moms. After all, moms control 85% of all household spending. Moms are the biggest influence of what brands their children will choose. Moms have strong online networks and rely on referrals from other moms. Make a mom happy and you've got the whole family plus her friends as new members.

How can you creative an opportunity to assist your customers like never before, and potentially increase loyalty and gain new customers?

Sparking Innovation

Hear case studies from other companies that are known for their innovative spirit and ability to execute. Learn systemic processes to encourage the right kind of innovation on your teams. During this session, the group roll up their sleeves and practice "Future Priming," an exercise that can be done at all levels of a company to teach employees how to spot opportunities and threats that may be just around the corner.
Wanted to follow up from Rotary last week. Simply stated, you knocked their socks off! I watched the audience as you spoke and you held them in the palm of your hands. They were enthralled, entertained and really there. And the lines of folks to buy your book validated that they love the program and message.
John Cooper
Rotary Club of Yakima Downtown (350 members)
Our members are always looking for ways to work with their staff and volunteers to inspire the best; your observations were quite applicable to Rotary as well. Your remarks were entertaining and insightful, and I am sure every person took away a gem or tow they will use in their own lives.
Mark B. Anderson
2017-2018 President Rotary Club of Tacoma 8 (over 200 members)
Shari Storm has received high marks as a speaker for Net.Finance – a well-regarded financial services marketing event. She is a forward thinker and innovator in the industry and highly admired by her peers for her insights and marketing know-how.
Leanne Laudico-Arcinue
Worldwide Business Research
Shari's presentation at our marketers' workshop was great. She kept the conversation lively. She answered everyone's questions and she knows a LOT about the topic
Amber Tynan
Florida Credit Union League
So, so good. Relevant info, super knowledgeable, very engaging presenter. I LOVED IT!!!
Audience Member
from CCMA Conference, Madison, WI, June 2014
The workshop delivered great value for those in attendance. Shari Storm was great. I would invite her to future events. She was organized, encouraging and interactive.
Audience Member
New York Chapter of Credit Unions
We had Shari speak at our annual conference and the participants loved her break out session. In fact, several named her as their favorite presenter of the conference. She's great to work with.
Andrea Moore
Communications Manager, CSCU
Amazing! Shari Storm brought a new dimension to our meeting. She is a great presenter who is one of the best I have seen in my many years as a volunteer
Audience Member
New York Chapter of Credit Unions
Shari was very knowledgeable and engaging. She spoke fluent geek, but she also translated into English, which helped me bridge the gap and make sense of the web 2.0 world.
Karen Ussery
fotos de karina