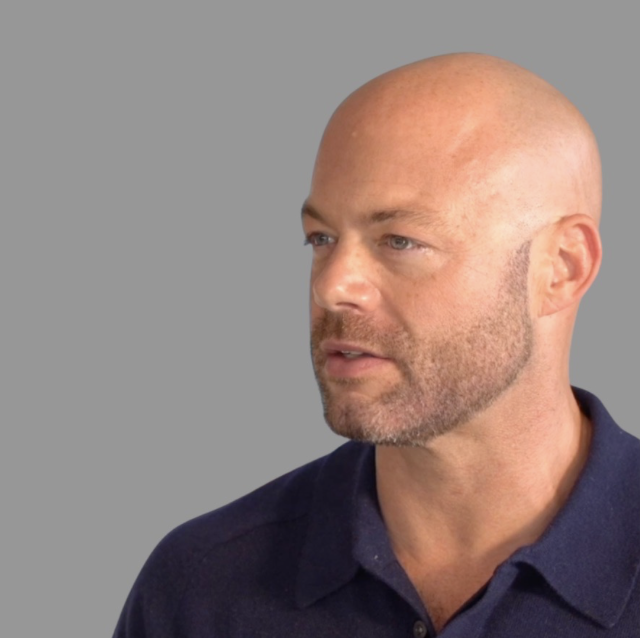 Book this Speaker
To learn more about Nick Anderson or book them as a speaker, please contact us.
Nick Anderson is the founder of Chosen Leader, a brand that supports the growth and development of leaders everywhere. Anderson's book, Six-Word Lessons for Middle Managers was published in May, 2022. Anderson became an entrepreneur following a 25-year career in financial services and a lifetime full of challenge and experience. As speaker, Nick has presented on topics including leadership, economics, banking & finance and nonprofit governance while also vulnerably sharing his personal story of growth and transformation. A two-time guest on television's New Day Northwest, he has frequently represented the companies he has worked for as well as his own brands in the public arena. Nick specializes in crafting custom keynote messages that inspire and educate – often intertwining his own personal experiences of overcoming tragic loss and personal growth.
Sample Keynotes
Storytelling and Leadership
The best way to grow the next generation of leaders.
What is the hero's journey and why is it the basis for every great story ever told? How did we learn not to follow a stranger into the woods when we were children? Why do we emulate celebrity artists, athletes, and CEO's? What connects our hearts and minds to the plodding pedestrian ways of corporate compliance?  The answer is story. A compelling story captivates attention, ignites imagination, and inspires action.  It is through story that children grow, and cultures sustain.  And it is through story that managers learn, and perspective is gained. Nick Anderson will take your audience on the Hero's Journey and relate it to leadership development in a way no other training program has ever done before!
Navigating "Class 5" Rapid Change!
When business conditions feel like whitewater rafting.
Somedays it seems like we are floating along safe and secure taking in the scenery…and then we go around a corner to see massive churning waters and before anyone knows it we've got people overboard grasping for a rope all the while we head into yet another rapid (change).  In this workshop participants will explore the most important tool leaders need to deploy in times of rapid change: Communication.
Nick Anderson will share his experiences and lessons learned through times of dramatic change; from mergers, acquisitions, core system conversions - to the unexpected and tragic loss of a loved one… These stories will frame the conversation in this interactive workshop as participants explore the most effective ways to communicate with their teammates, clients, and community.
Leadership | What does it take and why are some chosen to lead?
 
In this presentation, Nick examines the lives of three people: a young boy, a high school dropout, and a widower. He tells the stories of each through their life journey and concludes with an analysis of what all three have in common. Why were they chosen to lead?
Chosen to Lead | Leaders are not just born nor built. Leaders must be chosen.
Relating his experience of completing a demanding physical endurance and mental toughness challenge known as the "Goggins 4x4x48" to the challenges facing leaders in corporate America, Nick will share his observations and lessons learned over the course of 25 years leading individuals and teams. Each of the lessons Nick will share are included in his book: Six-Word Lessons for Middle Managers, 100 Lessons from the Field.
The Art of Pushing String
Nick Anderson unpacks basic tenets from Carnegie, Collins, and Sinek to explore the ideas of persuasion, being great, and the power of operating from a clear "why" as we search for ways professionals can inspire clients to take action on their most important recommendations. Anderson will draw on his 25-year career in the financial services industry as he shares strategies and methods he used to lead his team as they grew AUM from $350M to $500M in just three years.
Leading teams in 2023 | Insert Collegiate Sports Analogy (Here)
How might organizations consider approaching the workforce in a paradigm it seems, no one has fully understood? From the WFH debate to the Great Resignation and Quiet Quitting, not to mention the inevitable tidal wave of retirements coming in the short years ahead – there are myriad challenges to attracting and retaining talented individuals within any organization. What is a leader to do? Well, let's look at systems that have, for years and sometimes decades, operated successfully with an ever-changing migrant talent pool: College Sports. From the University of Connecticut Women's Basketball program that, from 2000-2016, stacked up a record of 116-1 and 10 titles, to Pete Carroll's run at USC between 2002 and 2008 when the Trojans seized two national championships, four Rose Bowls and two Orange Bowls, leaders can observe there is a way to achieve success despite working with a new roster every season.
Maximizing M&A Success: Mastering Cultural Due Diligence and Integration
Unlock the untapped potential of mergers and acquisitions by harnessing the transformative power of cultural integration. Join Nick Anderson CEO of Eighth Avenue Advisors, expert in corporate culture, for an enlightening workshop/keynote) designed to equip you with the knowledge and strategies necessary to navigate the complexities of cultural alignment in M&A deals. Did you know? Research shows that poorly executed cultural integration in mergers and acquisitions can result in significant financial losses and decreased employee morale, hindering the overall success of the deal. Discover the potential pitfalls of overlooking this crucial aspect during due diligence and learn how to leverage cultural integration as a catalyst for extraordinary post-merger success. Gain data-backed insights and proven techniques that will empower you to make informed decisions and drive value creation through seamless cultural integration.
Storytelling and Leadership
Navigating "Class 5" Rapid Change!
Leadership
Overcoming Adversity
Mindset/Growth
Sales Management
Client Engagement
Economics
Banking/Finance
Maximizing M&A Success: Mastering Cultural Due Diligence and Integration