Ndingui Moussavou (Guy-Francis)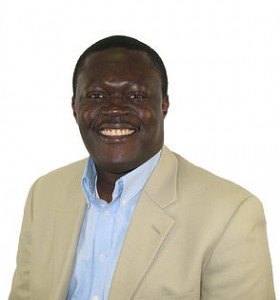 Book this Speaker
To learn more about Ndingui Moussavou (Guy-Francis) or book them as a speaker, please contact us.
Ndingui Moussavou (Guy-Francis) is a captivating speaker with an uncommon and inspiring life story. He was born into poverty in a small village in Gabon, Africa, and was raised by his mom and his uncle, a retired military policeman, after his father abandoned him before being born.
He and his siblings, all four boys and four girls, shared the same bed until he was 12, and they had only one meal per day and walked many miles to attend school. A high school dropout, he worked any labor jobs he could find, until one day, at the age of 20, a friend told him about opportunities in America. He was jailed in Paris, trying to get to London, where he eventually got a scholarship to study English as a Second Language.
Ndingui ultimately graduated from Washington State University where he obtained a Bachelor's of Art in Communication and a Bachelor's of Science in Nursing. He obtained his MBA from Western Governors University.
Ndingui is a talented speaker on motivation, inspiration, self-esteem, success, and overcoming adversity, with the goal of inspiring anyone that has ever been called a "dreamer."
Effective Leadership
Change Management
Expanding Your Mind