Steven Picanza & Roger Starkweather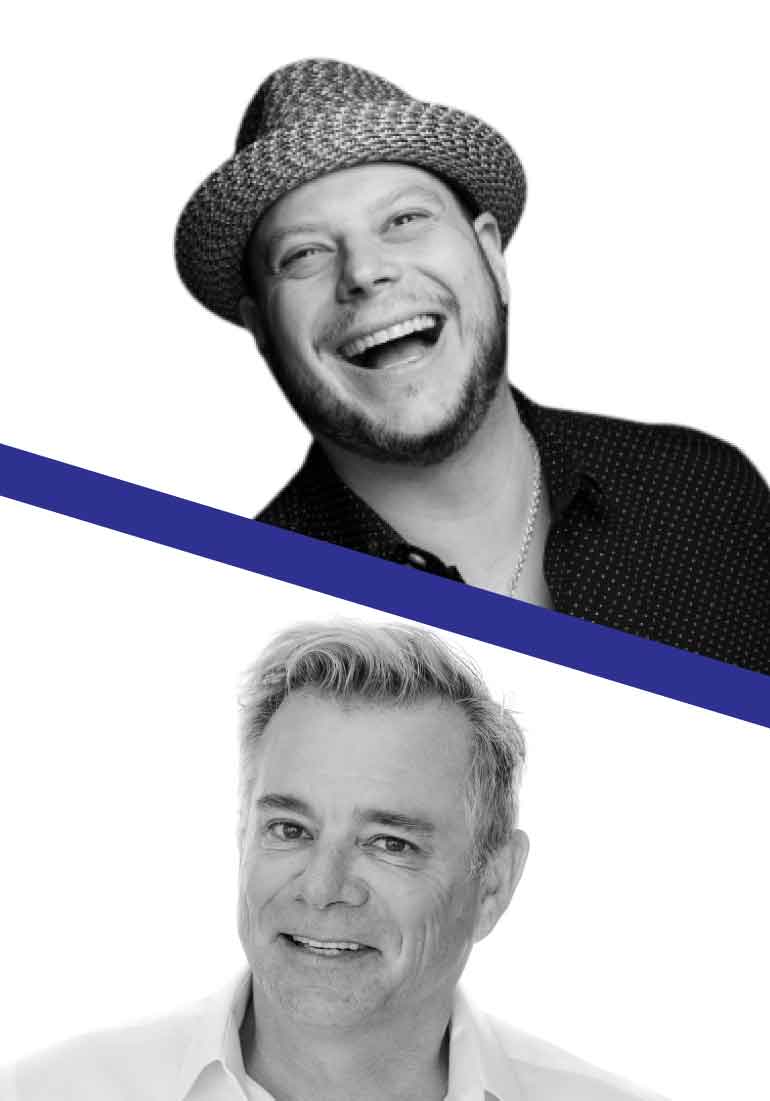 Book this Speaker
To learn more about Steven Picanza & Roger Starkweather or book them as a speaker, please contact us.
Steven Picanza:  As a strategist, Steven has spent more than a decade helping brands identify and bring their purpose to life through evocative ideas, award-winning campaigns, and compelling consumer experiences. While he specializes in building, repositioning, and marketing brands, his background is diverse (by design!) with roles in creative brand strategy, brand planning, and experience design. This range has enabled him to bring thoughtful, comprehensive strategic plans to his clients and be an empathetic cross-functional team leader. 
Steven has helped brands realize their potential and resonate across categories that include: CPG, hospitality, retail, health and wellness, food and beverage, travel and tourism, and non-profit/education. 
Notable clients include: Holland America Line, Dude Wipes, Dr Teal's, IDG Media, Pieology Pizza, MGM International, WaFd Bank, and many more.
Roger Starkweather: Passionately accomplished and consistently driven, Roger brings over 15 years of experience working in the retail and digital strategy space.  He is always in pursuit of serving clients first while conservatively solving complex initiatives. He is fortunate to have long-standing relationships with nationally known brands such as Nordstrom, Westfield, Starbucks Coffee, REI, Kroger, and L'Oreal.
NOTE: we're available as a team OR individually (flexible in regards to the event ask) 
TITLE TOPIC(s):  
Fractional CBO / CMO Services are here to Stay
Hiring a full time Chief Brand or Marketing Officer is expensive: Learn how to Economically and Efficiently get the job done with Fractional Services. 
Branding for tomorrow (a future POV on the role business and brand play within the evolving role of society)  
Branding is a game of categories and differentiation, yet most businesses fail to achieve their vision because let's face it, it's hard to see the forest through the trees. This talk will give the audience actionable steps to stay ahead of their category and differentiate with every consumer touchpoint. 
How to choose, vet, and engage with a marketing agency without losing your head
With multiple teams in place, the messaging framework and creative platform needs to be distributed to the IAT (integrated agency team) in an efficient and effective manner. The goal is to codify the campaign to maximize the GTM (go-to-market) efforts.
The most informational branding presentation you'll ever see 
What is branding and why should you care about it? Truth be told, branding is everything today and is weaved through the fabric of society and culture. 
 Details:   Educational style - Interactive presentation - Q&A (depending on audience size) 
We help companies maximize their branding and marketing investment when working with agency ecosystems. 
To successfully avoid the horror stories we've all heard (or experienced) when going through a branding or marketing project, you need a team that understands how agencies speak, work and think to avoid scope creep and project burnout while maximizing your investment. 
We've seen too many good businesses get taken for a ride with bad agency processes, lackluster creative, and generic marketing outcomes. 
It's our mission to make sure yours is not one of them.
Fractional CBO / CMO Services are here to Stay
Branding for tomorrow (a future POV on the role business and brand play within the evolving role of society)
How to choose, vet, and engage with a marketing agency without losing your head
The most informational branding presentation you'll ever see